Villa Champagne in Galley Bay Heights
Villa Champagne sits with splendor at Galley Bay Heights, overlooking the turquoise waters of the Caribbean Sea.
This stunning villa spreads over 7000 sq. ft. of living & entertaining space and consists of two wings connected by shaded verandas and stairs.
From every viewpoint of the villa you can enjoy spectacular views of the ocean and of the mature garden.
The predominant white colour of the floors, walls and furniture gives an almost surreal feeling creating a striking contrast with the surrounding tropical colours of the sky, sea and lush garden. The furnishings represent the best of Italian design.
To view this Luxury Villa please click on the link below.
View this Luxury Villa Rental in Galley Bay Heights Antigua »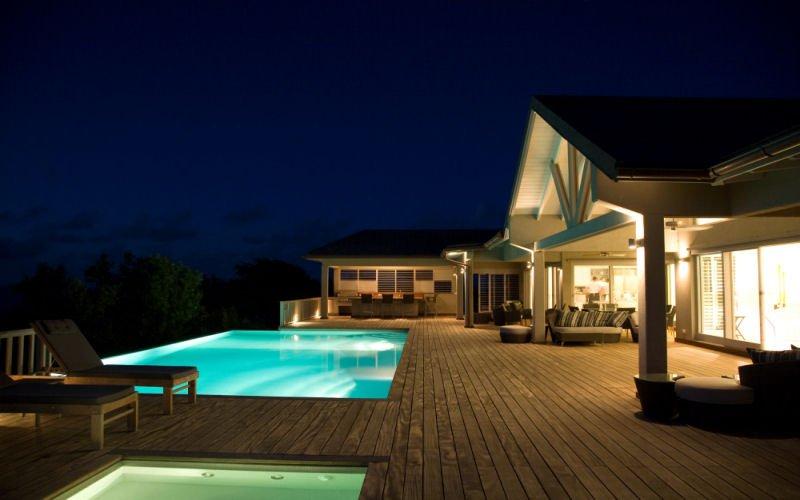 Galley Bay Property for Rent
Villa Renovatio is an exceptional, elegant villa, set within an outstanding private development called Galley Bay Heights. Where a mix of international owners, including designer Giorgio Armani, have chosen to make their Caribbean homes.
It is located on a secluded woody bluff set between two exquisite bays.
Villa Renovatio has been built with local materials such as stone and wood, complete with grey shingle roofs. It has been painted in the grey, cream and sandy hues of the surrounding limestone and volcanic outcrops.
The flowing lines of the villa blend beautifully into the environment, almost hidden within the rich and colourful landscape.
This silent revolution continues inside the villa where the interior follows the minimalistic design and provides wonderful spacious living spaces in monochromatic colours. The fittings and finish are of the highest quality. The floors are in stone or wood throughout and with no distractions inside you are constantly drawn to the breathtaking views the villa has to offer.
To view this Property please click on the link below.
Framed by some of the world's most beautiful and tranquil beaches.
It is no surprise that Antigua is gaining traction in the tourism market. More and more people are choosing Antigua as the perfect destination for weddings, honeymoons, vacations and holiday homes and rental investments.
Our friendly, professional team at Antigua Estates is always ready to assist helping you find your dream home and can be reached by emailing info@antiguaestates.com
To view all property and information please visit our website: www.antiguaestates.com »